PV system for heating water ThermoSol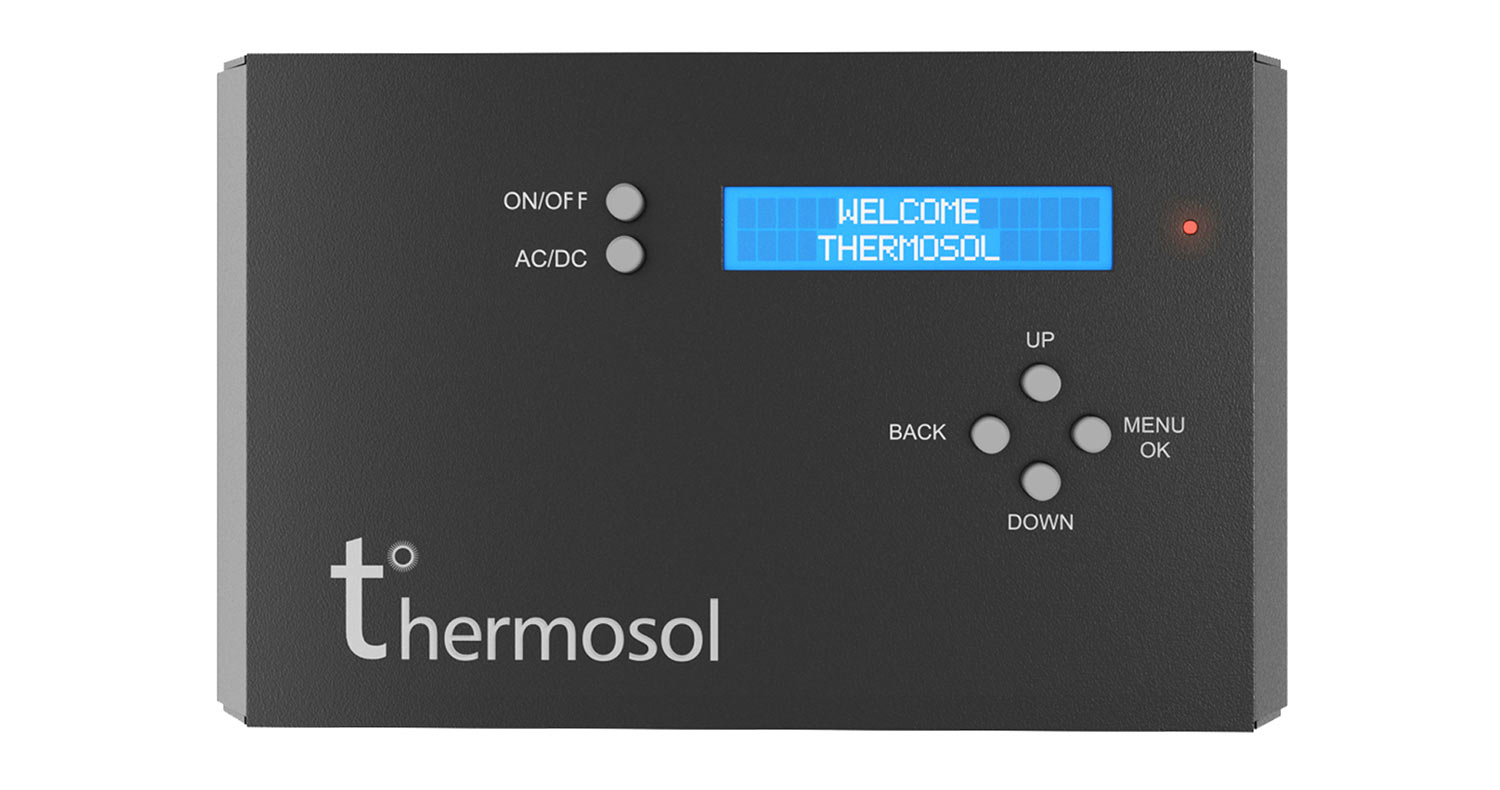 Controller ThermoSol — an alternative way to heat household water with solar energy. Usually, solar collectors and special water heater with heat exchangers are used for this, but ThermoSol system allows to connect a heating element of a conventional water heater to photovoltaic modules.
Content
Kit price
Working principle
Technical parameters
Additional photos
ThermoSol documentation
Set cost
The controller is designed and manufactured in Bulgaria by our partners. With us you can buy a ThermoSol controller, photovoltaic modules, cables, connectors and fasteners for self-installation of equipment. We also offer complete services for the design and installation of photovoltaic systems.
| | |
| --- | --- |
| Controller ThermoSol | 1 pcs |
| Modules Trina Solar TSM-PE05H, 280 Wp | 4 pcs |
| Kit price | 1 698 BGN |
Price in Bulgarian lev incl. VAT 20%
Buy or ask
Work principle
Solar modules produce direct current, witch is usually converted with certain losses into alternating current by inverter. But to heat water from photovoltaic modules, there is no need to convert DC to AC, since the common heating element of any boiler works perfectly with DC. In this case, there is no need to buy a special boiler with a heat exchanger, you can use the common.
Heating water with the support of photovoltaic modules.
Installation of all systems takes a short time compared to the installation of solar collector. When there is no way to install copper pipes from the roof to the boiler, in this case the PV system solves the problem completely. This approach has a several advantages, witch we described in detail in the article photovoltaic water heating.
Example: one ThermoSol controller with four 280 watt solar modules can provide water heating in a boiler with a 3 kW hating element and up to 120 liters. Solar modules must match with the parameters of the controller for input power, current and voltage.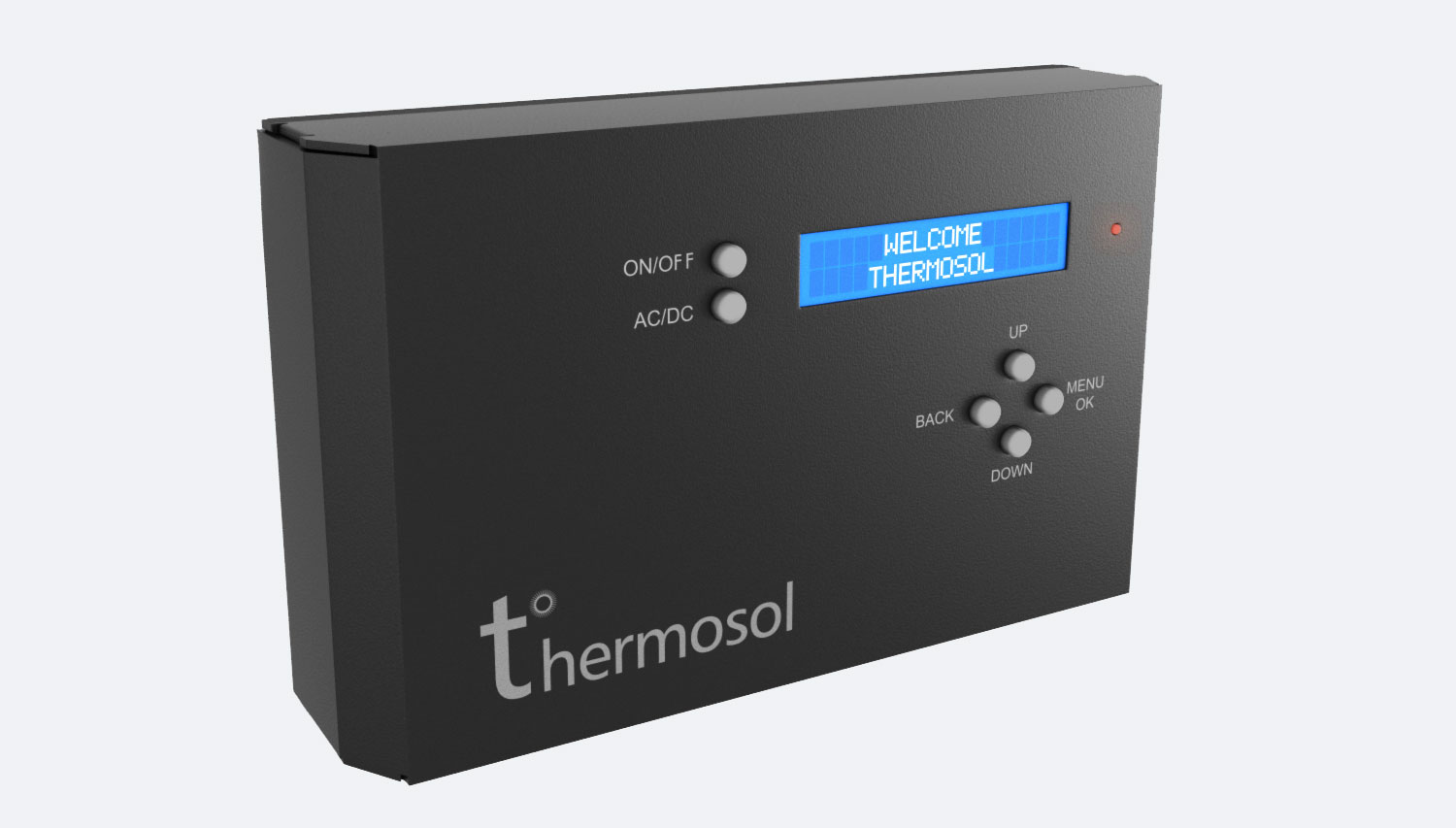 The AC/DC button allows you to switch heating modes of the boiler: from the grid or from the solar modules. Also the controller settings you can set the schedule for switching and the maximum temperature of water heating.
ThermoSol must be connected to the public grid, even if the mode of heating water from the sun is selected. This is necessary for the working of the controller itself.
Technical parameters
AC input
Input voltage
230 V (±10%) ~50 Hz
AC output
Maximum input current
16 А
DC input
Maximum PV power
1 500 Watt
Maximum current
10.0 А
Minimum Voltage
60 V
Maximum Voltage
180 V
Recommended boiler
With PV power 1 kW
2÷3 kW, 100 liters
With PV power 0.8 kW
1.2÷1.5 kW, 80 liters
Maximum boiler volume for one ThermoSol contoller — 120 liter. For a 200 liter boiler, two heating elements can be used.
Additional photos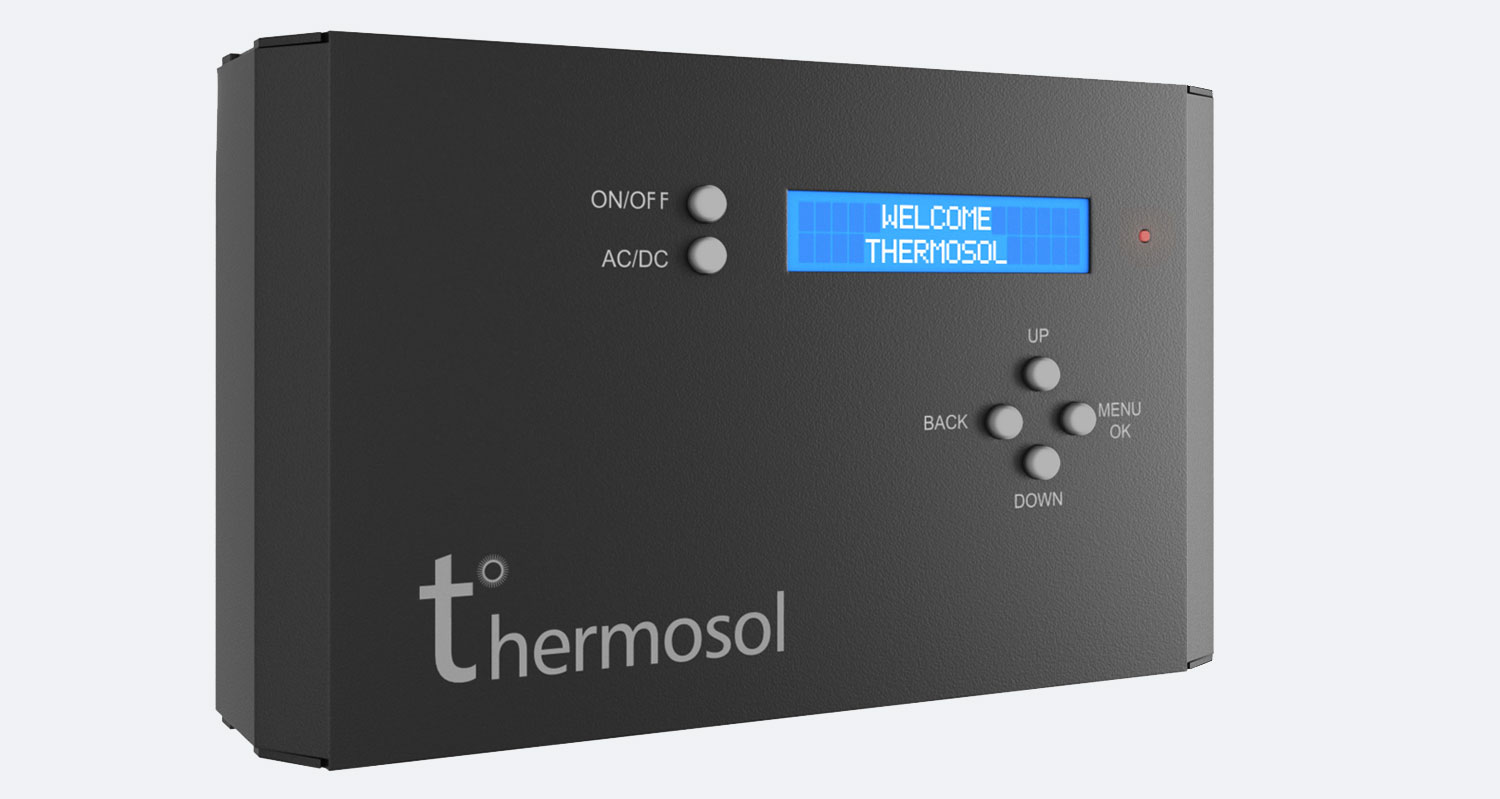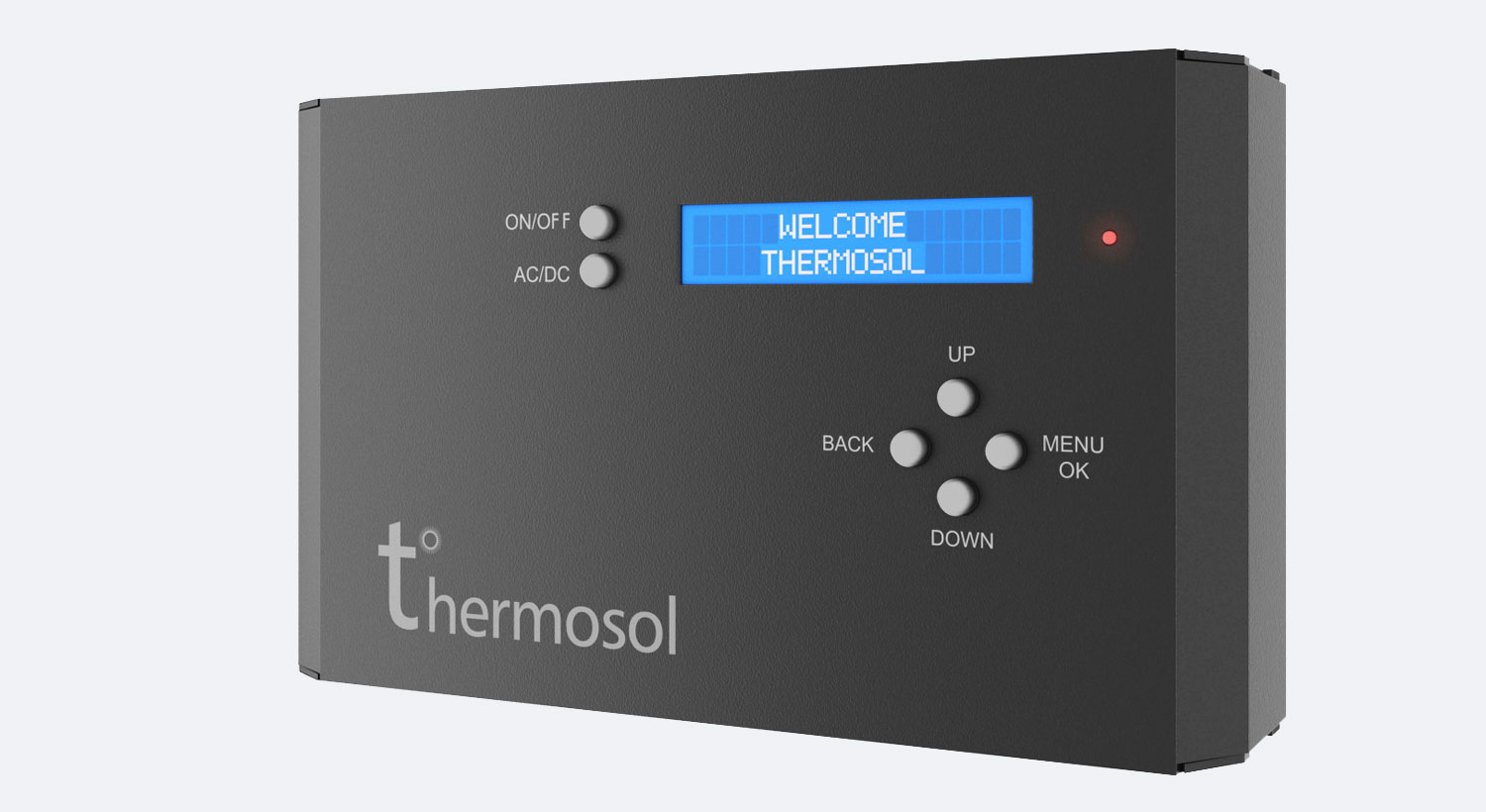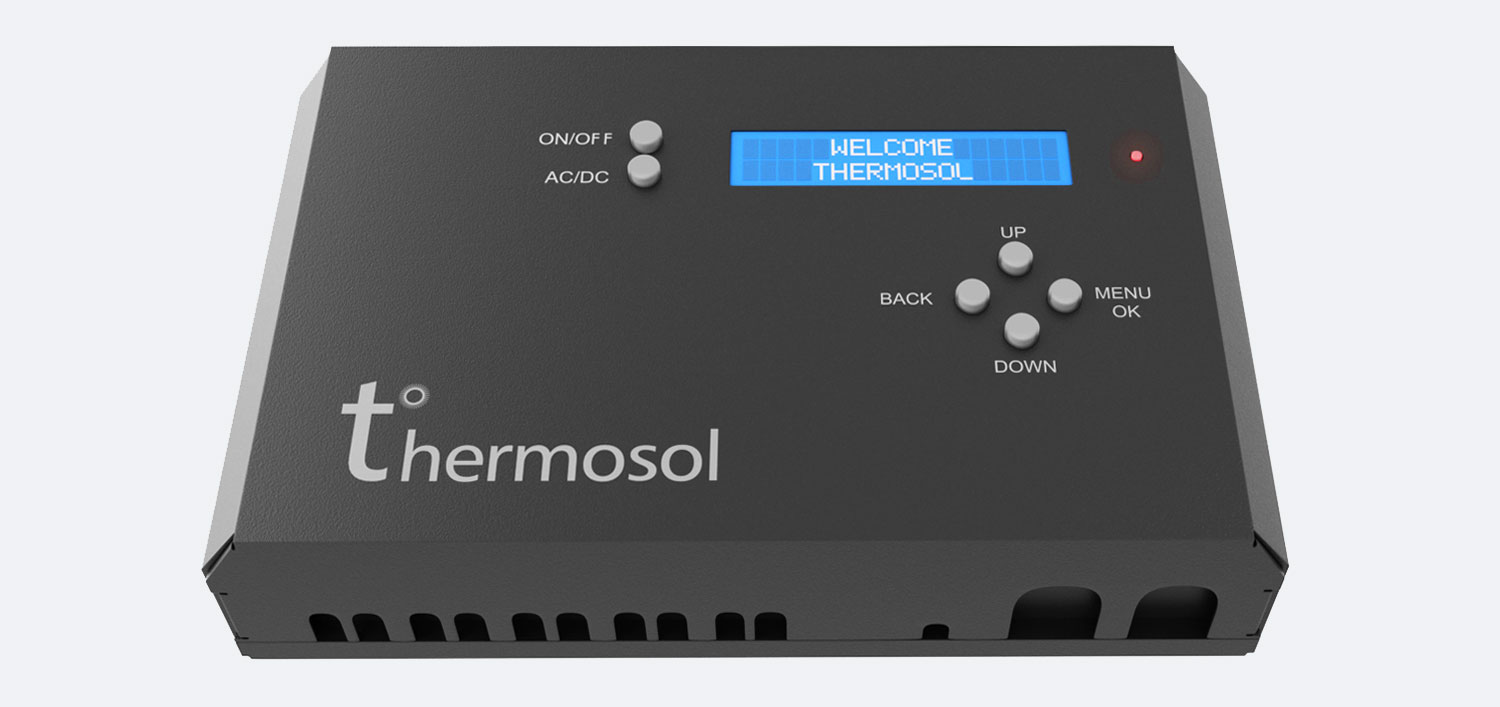 Documents ThermoSol